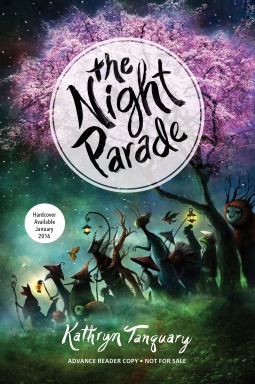 THE NIGHT PARADE
by KATHRYN TANQUARY
Published: January 5, 2016 by Sourcebooks Jabberwocky
Genre: Middle Grade, Fantasy
Pages: 320p
Source: NetGalley
Rating: ★★★★1/2
The last thing Saki Yamamoto wants to do for her summer vacation is trade in exciting Tokyo for the antiquated rituals and bad cell reception of her grandmother's village. Preparing for the Obon ceremony is boring. Then the local kids take an interest in Saki and she sees an opportunity for some fun, even if it means disrespecting her family's ancestral shrine on a malicious dare.
But as Saki rings the sacred bell, the darkness shifts. A death curse has been invoked… and Saki has three nights to undo it. With the help of three spirit guides and some unexpected friends, Saki must prove her worth – or say good-bye to the world of the living forever.
This book, for me, is like Spirited Away: A Retelling. The plot, the antics, even Saki all scream "Studio Ghibli" to me, and that is a beautiful thing – and this is of course beside the fact that both feature a little girl, spirits, and are set in Japan. I spend a lot of time looking for movies that give me the same sort of feelings a Ghibli film will. I've yet to find anything that comes close. In The Night Parade, little bits of information are hinted at but not explained, some horrific creature tries to eat a child and makes my grown-up-self sleep with the lights on, and a child gets a better understanding of her family from their wild and wacky adventures. The character development is beautiful, the setting feels real (even the spirit world), and it even has your typical MG morals. See if you can guess this one: "Saki learned very little from Her Ladyship's tale, except for the fact that Her Ladyship was an insufferable gossip whose neck had grown long from her habit of eavesdropping on conversations that did not concern her."
The Night Parade is a gorgeous, creepy, thrilling MG novel and I definitely encourage you to read it.
Disclaimer: I received a free e-ARC of this book from NetGalley in exchange for an honest review. This has in no way affected my opinion of this book.
     MEET YOUR BLOGGER!
Save